Veterans Educational Benefits
There are few callings in life more noble than sacrificing your own luxuries and freedom to serve and protect our country's freedom in the military. At Asher College, we honor the service of all who have enlisted and served in our military as well as their families, by accepting a broad array of military educational benefits.
We are a military friendly school where active duty military and veterans can find programs and a level of support specifically geared to meet their individual educational needs and career goals.
Asher College is rated as Gold & Bronze Level
Military Friendly® school.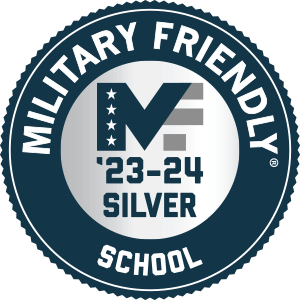 ---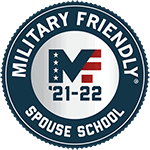 Asher College was also awarded the Military Spouse Friendly School designation for the 21-22 School year and is also eligible for the MyCAA Scholarship for military spouses. Please speak with one of our onsite school certifying officials for details.
Veterans Education Benefits:
Montgomery GI Bill® (Chapter 30)
Post 9/11 GI Bill® (Chapter 33)
Dependence Education and Assistance Program (Chapter 35)
Vocational Rehabilitation and Employment Program (Chapter 31)
Scholarships
The My Career Advancement Account Scholarship is a workforce development program that provides up to $4,000 of tuition assistance to eligible military spouses. The scholarship assists military spouses in pursuing licenses, certifications or associate degrees necessary to gain employment in an occupation or career field. Spouses may use their My Career Advancement Account Scholarship funds at any academic institution approved for participation in the scholarship. For more information, talk to Asher's school certifying official.
You've served your country, let us honor that service.
At Asher College our qualified School Certifying Officials not only help you fill out and request the documents you need to move forward with your career, they will monitor your progress and work to help make sure you receive your monthly benefits. For more information about what you may qualify for, schedule an appointment today.
GI Bill® is a registered trademark of the U.S. Department of Veterans Affairs (VA). More information about education benefits offered by VA is available at the official U.S. government website at www.benefits.va.gov/gibill.